Camps/Clinics
Summer Clinics:

​
Power Skating Clinic
Looking to increase your speed , explosiveness, and agility? Then this camp is for you . The players will be forced to skate outside their comfort zone and will quickly gain confidence and power in their skating ability. Our training regiment is designed to keep the players active and focused . As a result, you will see immediate results .

Foward / Defense Clinic
Develop your offensive and defensive game with proper training that will increase awareness and skill level. Both offensive and defensive strategies and tactics are covered as well as the providing and introducing the skills necessary to be successful at either position.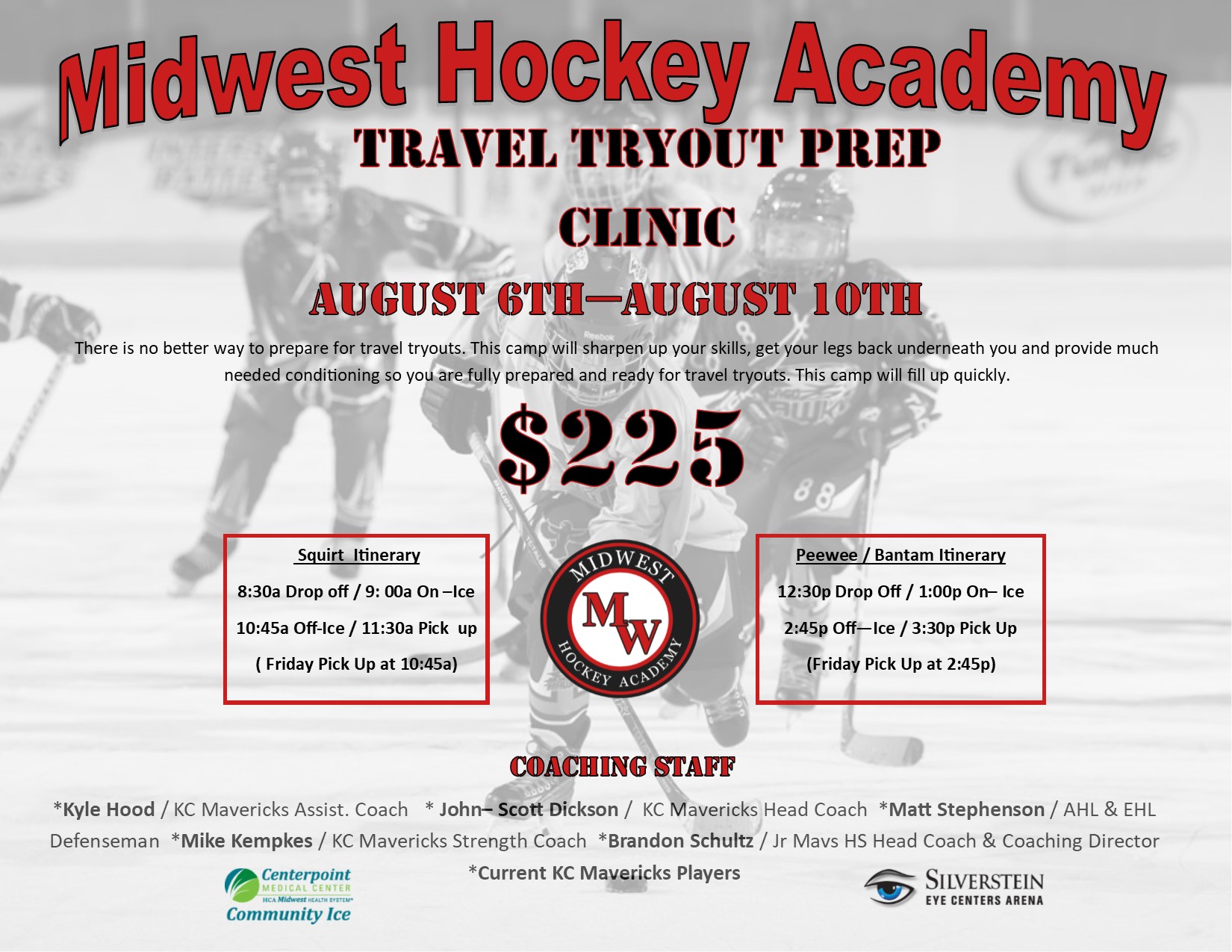 Travel Tryout Prep Clinic
There is no better way to prepare for travel tryouts. This camp will sharpen up your skills, get your legs back underneath you and provide much needed conditioning so you are fully prepared and ready for travel tryouts. This camp will fill up quickly.
Mavericks Youth Hockey Camp :
The Mavericks Youth Camp will feature high-intensity practices based around skill development on the fundamentals of the game. On-ice instruction focuses on power skating and off-ice includes hockey-specific worksout as well as competetive game. In the final hour, players will be split into smaller groups to refine shooting, scoring and stick skills. Email KHood@KCmavericks.com
Ferschweilwer Hockey School:

This Complete camp is virtually two camps in one. Each morning session will focus exclusively on powerskating. with each afternoon focusing on individual skills.
Future Clinics: Dates and Times Coming Soon
Checking Clinic:
Before taking your game to the next level, it is essential to be able to give and receive checks and understand how to protect yourself and your opponent from injury. Our checking clinics will provide body contact and checking skills designed to ease the transition into Bantams. These clinics will enhance your game so that you have the skills and confidence to play to the best of your abilities in tight, physical situations while also reducing the likelihood of injury. Body contact and checking clinics are primarily designed for players entering their first season of body checking, but all Peewee and Bantam players are eligible to participate.
CHECKING CLINIC FLYER / CONTACT BRANDON SCHULTZ TO REGISTER
Participants will receive 3 hours of on-ice professional instruction by Arena and Kansas City Mavericks Staff.
Coaches will focus on developing key skills including angling, positioning, technique, awareness and much more.
A maximum of 32 participants will be allowed at each location and will be filled on a first come, first serve basis.
Each clinic will have up to four coaches on the ice, creating a low player to coach ratio that facilitates one-on-one interaction.
Registration fee is $90 per player.
Pre Season Hockey Clinic - 8U & Rookies Session:
All 8U & first year hockey players are encouraged to participate. Coaches will group the players by age and skill level
PRE SEASON HOCKEY CLINIC FLYER / CONTACT BRANDON SCHULTZ TO REGISTER
Clinics will be lead by local professional and USA Hockey coaches dedicated to individual player development all of whom take pride in teaching hockey fundamentals. Coaches will work with each participant on a personal level to insure that they are teaching them the proper skills. They will take the time to teach the players at 'their' pace so that they can properly develop their skills.
Power Skating - drills will force each participant to skate 'outside' their comfort zone and teach explosive skating techniques
Overspeed - emphasis on quickness and 'keeping your feet moving' while skating with and without the puck to increase you acceleration and agility
Edge Control and Balance - focus on tight turns, transitions as well as your overall center of balance
Puck Handling - learn proper puck handling and control in a game like atmosphere
Puck Protection - focus on protecting the puck in game like situations with a strong emphasis on placing your body between the puck and the opponent
Passing - discover new found skills on how to give a receive precise passes
Shooting - learn new techniques to improve your shot accuracy and velocity
Positioning - combination of body positioning and positioning on the ice to prepare individuals to be ready to give and receive the puck